On Friday I woke up energized. The twins woke up happy. The baby woke up healthy. By 7:45 I couldn't stand being in the house on such a beautiful morning, the sun was shining and it was breezy and cool. I drug my children out of the house and down the street for a leisurely walk through the local cemetery. It is the perfect place to walk, well maintained paths and no traffic, lots of shade trees and interesting scenery. We walked up and down the roads and read headstones and figured out how old the really old was were (some date back to 1865) "Mom, that's even older than you" came from my 5 year old son-- and admired the little things that people had left on their loved one's stones over Memorial Day weekend.

It was such a fabulous start to the day. After our 45 minute walk (the five year olds wimped out, not me) we came home and got ready to head to the store. The kids were very good at Target, with the exception of a 20 minute debate over which coloring book to pick.


We headed out to my mom's house to visit for a little while and the baby (he's 18 months old but I refuse to stop calling him the baby) fell asleep. I took him in and laid him down on the couch and we all sat around to visit FOR TWO HOURS! The baby got a short nap but the kids all went outside and played for a while.


The kids all had such great attitudes. The baby was cracking up while watching daddy play an archery game on the Wii.


I actually had to remind myself to eat as I was in such a good mood that food wasn't perpetually on my mind.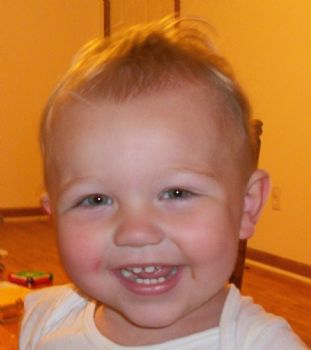 Saturday was full of errands, and I managed to hit the carbs harder than I have been which doesn't thrill me but oh well, I stayed in my calories, carbs, fat and protein for the day. I actually fell about 20 calories short for the day. The kids played in the rain.
Sunday was a fabulous day all around. Went over to clean my parents' floors and took my 5 year old daughter with me. She and my mom made bookmarks as a present for a friend while I worked. We came home to get ready for an afternoon of swimming and playing with friends. The afternoon turned into evening while thy shot off lots of fireworks. I had to make do with what food was available but surrounded by hot dogs, burgers, cheese balls and pizza I still managed to stay well under 2000 calories for the day. In the past that could have been a 3500-4000 calorie day, so I will call it a success!